We Rent Forklifts
Here at Beds and Bucks Forktrucks Ltd we supply a huge range of forklifts available to rent.
All of our forklifts available to rent are readily available whether you require short term or long term forklift hire.
Forklift Specialists
To rent a forklift either contact us by phone on 01234 391784 where one of our friendly and knowledgeable team members will be happy to help with your enquiry or click the button below to fill out an online enquiry form.
Renting forklifts to businesses across the UK:
Huge Range of Forklifts
Readily Available
Short or Long Term Hire
Same Day Delivery
The Forklift Rental Specialists
Our trucks consist of LPG, Diesel, electric, counter balance, reach truck, side loaders, multi directional forktrucks, electric power pallet trucks and manual pallet trucks. We can also provide a full line of forklift attachments and accessories such as bale clamps, rotators, slip sheet attachments, Jibs and carpet booms.
Rental Fork Trucks Ready To Use
All our trucks will have a current thorough examination (LOLER), will meet all safety regulations and will be free from defects that could affect your business efficiency.
We're Here To Help
At Beds & Bucks Forktrucks Ltd we want to provide you with the full package of support and not just supply you with a truck. So from our fully trained engineers to our experienced sales and service departments we are here to advise you on all aspects of your material handling requirements. So please contact us for further details.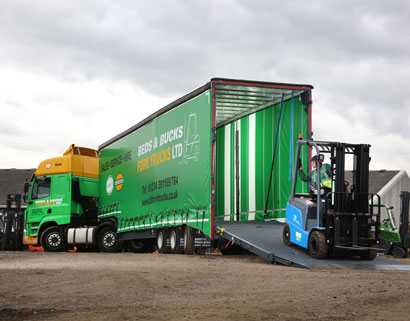 Why Hire Forklifts from Beds & Bucks Forktrucks
Flexible Hire Packages
Whether you are looking for short or long term hire, we are able to offer flexible packages for your business.
Same Day Delivery
Utilising our own fleet of delivery vehicles, we are able to deliver forklifts at short notice on the same day.
Huge Range of Forklifts
Our rental forklift fleet includes counter balance forklifts, sideloading forklifts, reach forklifts as well as many more.
Readily Available
We have one of the largest rental forklift ranges in the area allowing us to cater to your specific needs.
LOLER Certified
We ensure that all of our forklifts are fully serviced as well as being LOLER certified before leaving our premises.
Service Support Available
Our extensive industry experience allows us to repair and service all makes and models of forklifts.