Aisle-Master Forklifts
New, Used & Rental Aisle-Master Forklift Trucks
We, Beds and Bucks Forktrucks Ltd, also stock the popular Aisle-Master specialist narrow aisle forklift trucks. These forklift trucks are designed to fit down the smallest of aisles.
The Aisle-Master VNA (Very Narrow Aisle) articulated forklift is a specialist narrow aisle forklift truck that excels at working in tight warehouse environments.
This can increase the amount of storage space available by up to 50%. The Aisle-Master VNA forklift is designed to work both inside and outside and is versatile enough to perform the work of both reach and counterbalance forklifts. This is more efficient, reduces the number of forklifts required and lowers costs significantly. Electric and LPG powered models are available with lift capacities of up to 2.5 tons.
Enquire about Aisle-Master Forklift Trucks Today
Aisle-Master Forklift Trucks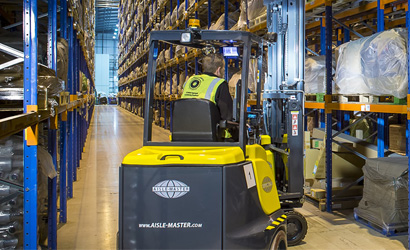 Versatility
The versatile Aisle-Master Very Narrow Aisle articulated forklift has been designed to replace a number of other forklifts for more efficient offloading, handling and storage. It works as a counterbalance truck for offloading in the yard, and operates in very narrow aisles in the warehouse, replacing reach trucks which need much greater working areas. Using the one truck also increases productivity as it eliminates time consuming double handling and speeds up "truck to rack" operations.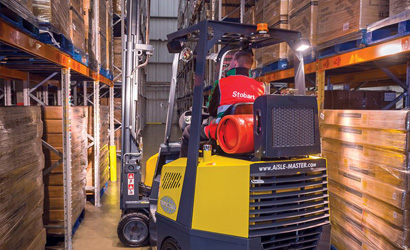 Manoeuvrability
The articulated design offers unbeatable manoeuvrability, providing faster load cycle times and reduced driver fatigue.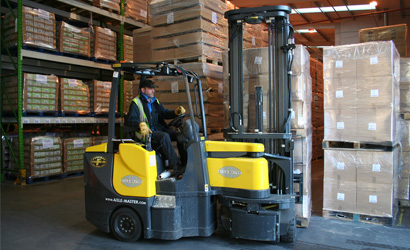 Visibility
Superior visibility over other lift trucks ensures better placement accuracy, quicker picking and less product damage.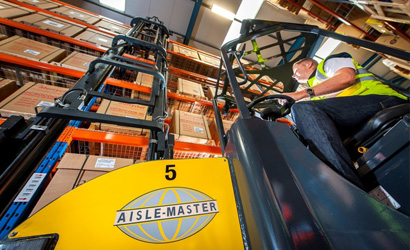 Stability
The Aisle-Master forklift truck has been specifically designed to maintain optimum stability when fully articulated, ensuring operator safety without compromising on lift height.
Aisle-Master Forklift Specialists
Since it was founded 13 years ago, Aisle-Master has grown dramatically and there are now over 5,000 units working around the world in various locations.
With more than 50 years of industry experience, the Aisle-Master developers have created a cost-effective, low maintenance material handling system.
Here at Beds & Bucks Forktrucks Ltd we are forktruck specialists and our experience in the material handling industry spans over 30 years. Our Aisle-Master range includes both electric and petrol versions with a variety of lifting capacities to fit all of your forklift requirements.
Contact us for further information on our Aisle-Master range.