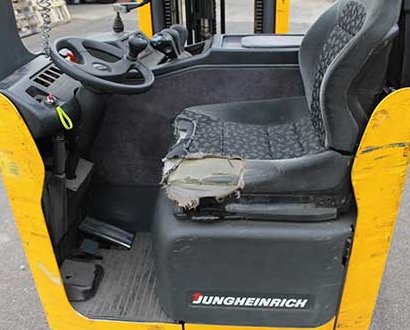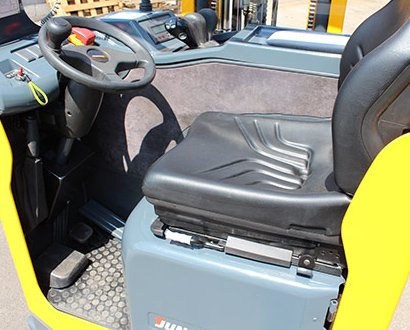 Fork Truck Refurbishment Specialists
Step 1
Each forklift is thoroughly inspected before the refurbishment commences and a full report of the condition is issued. Here, spare parts are ordered and all safety-critical components automatically replaced.
Step 2
The equipment is disassembled and pressure cleaned to enable a full inspection of chassis and mast hangers. Consumables such as brake fluid, engine and hydraulic oil are disposed of in accordance with environmental regulations. Mast and carriage is inspected and re-rollered, re-chromed and re-sealed where necessary and brakes overhauled. Hoist chains and forks are tested and replaced if required.
Step 3
We will carry out an inspection of welds for structural strength. All sub assemblies are tested and repaired as required. Careful attention is paid to ensure the machine remains completely standard for spares compatibility.
Step 4
Each Fork Truck will be stripped back to base metal then primed, smoothed and painted in the original colour or your companies fleet colour.
Step 6
Chassis, mast and all components are re-assembled and the truck is restored. We will then conduct a final functional test with rated load to ensure it conforms to the requirements of the Health and Safety at Work Act (1974) and a relevant chain test certificate issued.
Enquire about Forklift Rebrubishment Today
Forklift Restoration
For more than three decades, at Beds & Bucks Forktrucks, we have specialised in restoring forklift trucks for small, medium and large businesses nationwide. Whether you are looking to restore a counter-balance, sideloader or reach forklift, our team of experts will get your machine back to an excellent condition.
Our forklift refurbishment service comprises of a comprehensive inspection of your vehicle including safety-critical components, forklift consumables and chassis. Our team offers specialist forktruck cleaning, painting and stripping as well as cab refurbishment.
For more information on any of our forklift refurbishment services, do not hesitate to contact a member of our team today. From our location in Newport Pagnell, our fully equipped refurbishment centre contains the very latest technology to ensure that your forklift leaves in the best condition possible.

Breakdown Cover
We have a 30-40 mile radius from our depot that we stick to allowing us to respond to all major forklift breakdown within the 2-3 hour guideline that we have set. We have a high first fix rate and for repair jobs that require more work we are able to supply you with a replacement forklift as temporary cover until we can ensure your forklift is repaired and fully optimised for your use. If you require assistance with your forklift contact us today and speak to one of our advisors who will be happy to help with your enquiry.

Fully Equipped Workshop
Here at our depot in Newport Pagnell, just north of Milton Keynes we have a fully equipped workshop to allow us to complete a number of forklift repairs. Our fully equipped workshop, fitted with vehicle lifts, steam cleaning bay, spray booth, hydraulic hose making facilities and engineering tool room allows our team of expert technicians to complete an array of tasks. We can carry out work from small repairs and modifications up to a complete refurbishment of your forklift.

Other Services Available
As well as our complete forklift refurbishment services, we are also able to carry out a number of other services such as on-site tyre fitting, traction batteries, customised transport, forklift attachments, painting facilities, and forklift driver training. If you require any of these services or have an enquiry regarding our forklift service and repair please do not hesitate to contact us for more information.