Bendi Forklift Trucks
New, Used & Rental Bendi Forklift Trucks
Bendi: the world's most popular articulated forklift truck.
Since 1964 Translift Bendi have been designing and manufacturing ground breaking, award winning, space saving articulated forklift trucks. Focusing on affordable narrow aisle trucks from the beginning, Bendi focuses on developing versatile, mass produced material handling equipment that specialises in offloading from trailers and placing loads into narrow aisle warehouse environments.
Bendi articulated forklifts are the ideal choice when space saving is a primary concern, able to achieve a storage density that exceeds even that of a VNA (very narrow aisle) installation in many cases.
Enquire about Bendi Forklift Trucks Today
Bendi Forklift Trucks in Milton Keynes
Beds & Bucks Forktrucks Ltd carry one of the largest stock of forklift trucks in the Hertfordshire, Bedfordshire & Buckinghamshire area - ranging from 1 to 12 tonne lifting capacities and readily available at short notice with same day delivery by out own on site transport (where available.)
If you're looking for a new or used Bendi forklift truck give us a call or contact us online through our website. We also rent Bendi forklift trucks and provide financing for material handling equipment.
The location of our base of operations, in Newport Pagnell, allows us to provide unparalleled delivery and aftersales service to businesses in surrounding areas including Milton Keynes, Luton, Dunstable, Bedford & St Albans. We pride ourselves on our quick response to forklift breakdowns (usually within 2 hours), something we're able to achieve by keeping all of our business within a 30 mile radius of our location.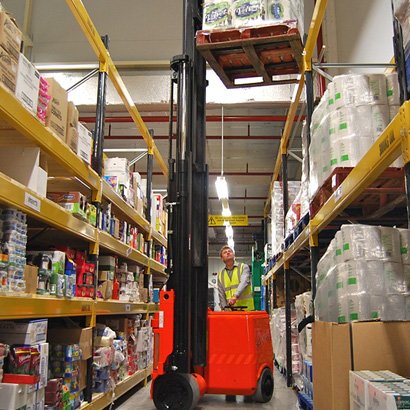 Bendi Counterbalance Forklift Trucks
When most people think of a forklift truck, they are more than likely picturing a counterbalance forklift. As you would expect; a weight at the rear of a counterbalance forklift truck offsets the load to be lifted on the forks protruding from the front of the vehicle.
Counterbalance trucks are available as both electric or gas/diesel powered with the electric variations able to use the battery itself as part of the counter balance.