Electric Forklift Trucks
Here at Beds & Bucks Forktrucks Ltd we have a huge range of electric forklifts to meet the specific material handling needs of both small and large warehouses. Over 30 years, our family has passed down its principles on customer service, honesty and integrity from generation to generation.
As well as our extensive range of new Combilift Electric Forklifts and Clark Electric Forklifts we also offer a huge selection of used electric forklifts: from manufacturers such as Hyster, Jungheinrich and Tailift.
Electric Forklift Specialists
Whether you are looking for a forklift suitable for narrow or high aisles, our electric forklift selection will fulfil all of your specific requirements. If you are unsure which forklift is suited best to your needs, contact a member of our specialist team today for assistance.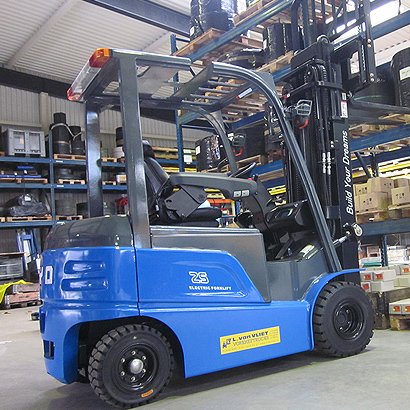 Enquire about Electric Forklift Trucks Today
Electric Forklifts
Electric forklift trucks have a number of advantages over other types of fork trucks. Perhaps the most significant is that electric forklifts generate no emissions. This is very beneficial if you plan on using your forklift truck in an enclosed environment without good ventilation.
Electric forklifts are also cheaper to operate than fuel powered trucks and there is no need to store fuel in your warehouse, freeing up space and making your warehouse a safer place.
Because there are fewer moving parts in an electric forklift they generally have a longer lifespan than similar fuel powered trucks. Electric forklifts are also easier to maintain.
The final advantage of buying an electric forklift truck is the significant reduction in noise compared to a similar truck with an internal combustion engine. Because they are powered by a battery, electric forklifts produce much lower levels of noise.